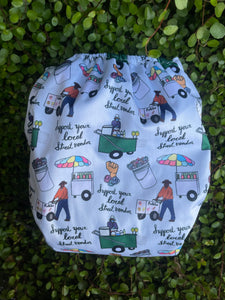 Vida Mia is introducing XL pocket diapers! We are excited to have these available for those who are needing that bigger fit for their child. We have plenty of moms who still use diapers for night as they potty train as well, our XL diapers can help put your mind at ease with knowing you will continue to have that great fit, leak proof diaper. 
-Diaper does not include insert.
-Rounded wide insert opening

-3 by 4 rise snap adjustments
-Tummy panel
-Authentic wicking jersey
-roughly fits from 20-75 pounds
-Your option of a regular or rolled elastics
-You get to have fun on what goes on babies bum with all the different custom prints.